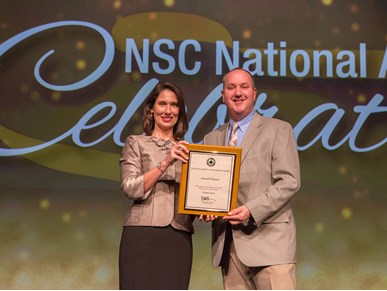 ACCO Brands was recently honored with an award that emphasizes high-level dedication to safety, exemplifying our employees' collaborative strife for excellence.
The National Safety Council (NSC) is a nonprofit organization whose mission is to eliminate preventable injuries at work, in homes and communities and on the road through leadership, research, education and advocacy.  Every year, NSC recognizes companies and business leaders for excellent safety performance.  Earlier this year, ACCO Brands was awarded a 2018 Industry Leader Award for excellent safety performance within its industry, based on 2017 calendar year data.
The Industry Leader Award recognizes the top 5 percent of member companies, units and facilities that have met the criteria and qualified for the 2018 Occupational Excellence Achievement Award from the National Safety Council.  Winners are selected based on North American Industry Classification System code, lowest total incident rate and employee work hours.
To recognize the companies that earned the Industry Leader achievement, the NSC held an annual awards celebration in late October. Jim Edwards, Director, Environmental, Health and Safety, attended the awards ceremony and accepted the award from Deborah Hersman, President and Chief Executive Officer of the National Safety Council, on behalf of ACCO Brands.
"This award is recognition of ACCO Brands' commitment to safety excellence at all levels of the organization, from our front-line employees to our senior leaders. I was honored to accept it on everyone's behalf," said Jim Edwards.  "I'd especially like to recognize our U.S. Environment Health and Safety (EHS) team for leading the safety efforts at their sites and ensuring a safe work environment day-in and day-out."