Kensington®, the worldwide leader of desktop computing and mobility solutions for IT, business, and home office professionals and The Professionals' Choice, is celebrating National Ergonomic Month in October by drawing attention to the four key areas of the body workers and students should focus on to create the optimal work environment at home or in the office.

"Six full months have gone by and our bodies are starting to feel the effects of working from home, especially if our workspaces are not set up ergonomically," said Lisa Schuiteboer-Shuler, Ergonomic & Wellness Category Manager at Kensington. "We may be working at a kitchen table, dining table, the couch or even in the bedroom, and have put our bodies in positions that are not conducive to the best working environment."

A recent report by the Institute for Employment Studies noted a significant increase in musculoskeletal complaints over the past six months, with over 55% of respondents noting increased aches and pains especially in the neck, shoulder and back, compared to their normal physical condition.

When workspaces are not set up ergonomically, it can create tension in the body, particularly the four key areas of the neck, wrist, lower back and feet.  Workers and students can combat fatigue caused by harmful working setups by making a small investment in office accessories designed to promote proper posture and reduce strain on these four areas.

Neck
Promote proper head and neck alignment with laptop risers like the SmartFit® Easy Riser™ Go Adjustable Ergonomic Riser for up to 17" Laptops (K50422), which combines the ergonomic benefits of raising screen height to support neck and shoulder comfort with the technological benefits of increased air circulation for laptops.

Wrist
Protect the wrist with a vertical mouse and keyboard wrist pad such as the Pro Fit® Ergo Wireless Keyboard and Mouse (K75406), which positions hands, wrists and forearms for comfort and neutral alignment. 

Lower Back
Relieve back strain caused by sitting for long periods of time with a back rest like the SmartFit® Conform™ Back Rest (K60412), which allows users to select their ideal, personal height setting to provide optimal comfort and support for the spine and lumbar.

Feet
Eliminate foot pressure points and strain with footrests such as the SoleMate™ Comfort Footrest with SmartFit® System (K56144), which enables personalized height and angle adjustment to position feet for maximum back and leg comfort.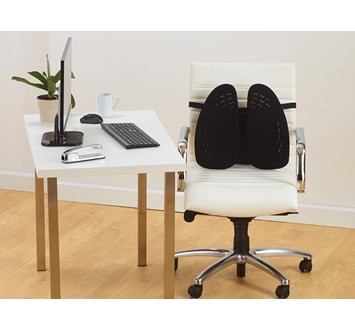 Visit https://www.kensington.com/solutions/product-category/ergonomics-wellness/ to learn more about Kensington's range of workplace ergonomic and wellness solutions to support, protect and comfort the body.