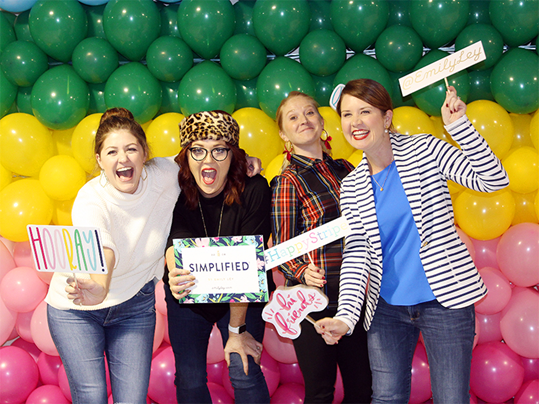 ACCO Brands' AT-A-GLANCE®, an industry leader in planning solutions that help busy people plan and organize their lives, has partnered with Emily Ley and her Simplified® line of organizational tools for 2019. 
The Emily Ley collection of minimal, meaningful planners and organizational tools was created to help busy women live simpler lives.  Founded on the belief that a full, abundant life doesn't have to be overwhelming, the Emily Ley brand inspires and equips women to declutter, simplify and create margin for the good stuff of life. Products were made available for a limited amount of time at the following retailers: Amazon, Office Depot, Staples and Target.
To celebrate the success of the AT-A-GLANCE® and Simplified® collaboration, ACCO Brands' Kettering, Ohio, location held a celebration and invited the site's employees, Emily Ley and a few members of her team. The celebration featured a short presentation of the success of the collaboration and gave Emily Ley and her team a chance to meet all of the ACCO Brands employees – from graphic designers to licensing associates - who helped make the collaboration a success.
Curious to learn more about our journey with Emily Ley and Simplified®? Check out the following links that feature our journey together!
Emily Ley went live on Facebook in October of 2018 to officially announce our partnership.
 Emily also announced the partnership on her famous blog on Emilyley.com. 
Interested in purchasing your own Simplified® planning tool?