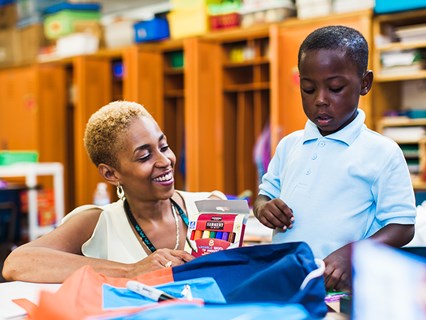 The Kids in Need Foundation (KINF) is a nonprofit organization with a mission to ensure that every child is prepared to learn and succeed in the classroom by providing free school supplies nationally to students most in need.  Thanks to the support and contributions of numerous organizations, including ACCO Brands, the Kids in Need Foundation is able to provide supplies to classrooms across the country where students otherwise could have not afforded their own.
With our portfolio of leading academic, consumer and business brands, including Five Star®, Mead®, Swingline®, Quartet® and GBC®, ACCO Brands works with the Kids In Need Foundation to help ensure all students have access to high-quality school supplies, emphasizing our commitment to community. According to the annual Impact Survey, when students receive new supplies like these, they know their community is caring for them and helping to create equity in the classroom.
Each year, we partner with the organization in an effort to raise money and awareness. During the 2018 back-to-school season, KINF reached a special milestone - $1 billion worth of donated school supplies. To celebrate, the organization launched a social media campaign to showcase #HowMuch one billion has done to impact the lives of students and teachers. ACCO Brands supported its efforts by sharing #HowMuch the company has done to help KINF reach this $1 billion in donations, and affirm its efforts to reach the next $1 billion.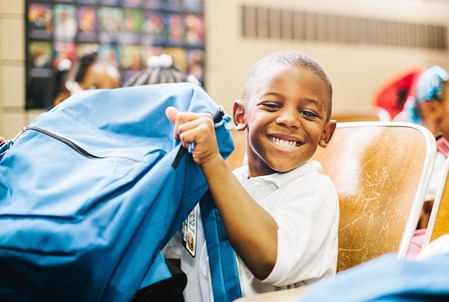 "Our brands offer essential back-to-school items, including notebooks, folders, dry erase markers, staplers and more that are included on back-to-school lists," said Tom Tedford, Executive Vice President and President, ACCO Brands North America. "So it is important that ACCO Brands has been able to partner with the Kids in Need Foundation because of our natural commitment to education and academic achievement."
Recently, the KINF has launched a new initiative - SupplyAClassroom.org. The program opens the donation opportunity to everyone across the country and gives donors a direct connection to the classrooms they support with classroom supply boxes by allowing donors to search for specific classrooms or teachers in his or her or hometown or even full districts, cities or states.