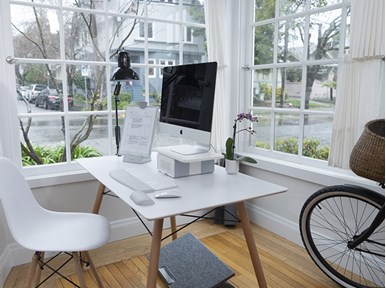 Amid the COVID-19 outbreak, the global community has been pushed to adapt to unprecedented circumstances affecting several aspects of their lives. Specifically, many have adjusted to remote work, education, and entertainment, forcing them to turn their homes into offices and use unfamiliar technology to complete tasks that previously did not require it.

ACCO Brands' portfolio of consumer products has all the resources for those needing to transform their homes into a working environment. From tech connectivity and security to desk organization and health and wellness, ACCO Brands has the equipment to make working from home as productive, efficient and comfortable as possible.
Technology
As an industry-leading desk computing and mobility solutions brand, Kensington has identified tech connectivity and input devices as two key areas to consider when setting up your home office. For connecting additional monitors and accessories, our tech professionals suggest using a docking station.  Mobile docking stations are a great choice for people who are connecting to a single monitor, a few accessories and desire a portable solution. For those who need more connectivity while working from home, Kensington also offers docking stations to support up to dual 4k monitors, laptop and device charging and connections for all your desktop accessories and more. Lastly, your home office is not complete without navigation tools, such as trackballs, mice and keyboards. With several options within each category, you're destined to find one that fits your work style. 

Security
Laptops, tablets and other mobile devices that are being used to work from home are valuable, not just because they represent significant investments, but also because of the sensitive business data and crucial personal information they house.  To help consumers protect mobile devices and the sensitive information they contain, Kensington has developed a comprehensive portfolio of tough, reliable and easy-to-use security solutions.  For more information regarding keeping your devices secure, please visit Kensington's blog, linked here, to read about which solutions would be right for your home office equipment.
A measure of security that is often over-looked in this digital age is shredding documents.  Even though many are working from the safety of their own homes, it is important to remember that all documents reach a destruction date and should be disposed of in a safe and efficient manner.  Doing so will help maintain confidentiality and can prevent personal and corporate identity theft.  Our brands offer several ranges, making it easy to select the best for your home office. For a home environment, our shredding professionals recommend GBC's Shredmaster range, Kensington's OfficeAssist™ range and Rexel's Momentum range. Each range contains varying sizes of shredders, each with their own unique design and technology. 



Organization
Adjusting to a home office environment may mean having to set up and organize your work space in a way that has never been done before.  Perhaps you are working with more/less equipment in a space that is predominately not used as an office.  With the right organizational tools, a makeshift home office can be transformed into a space allowing you to be as efficient and productive as possible.    
Quartet's line of Desktop Glass dry-erase products let you brainstorm ideas, jot down reminders and organize your day from the comfort of your desk.  Products range from computer pads, notepads, weekly planners and easels.  These products can also double as great support tools for families helping their children with remote education.

For those looking to update their entire home office space, Leitz can help you equip the area with the tools you need. Leitz stands for attractive design ranges, such as Leitz WOW,  Style or Plus, as well as Leitz Complete, and a strong portfolio of business machines, including Leitz iLAM Laminators and IQ Paper Shredders. With modern design and appealing colors, Leitz WOW products are the perfect splash of color for every home office. Each design range consists of products that are created with a similar design, making the collections cohesive and visually pleasing when placed in the same setting, whether it's in a regular office or at home.  Products that are available in these design ranges include letter trays, file organizers, notebooks, staplers, hole punchers, arch files, storage boxes and more.
Health and Wellness
Another key area Kensington has identified for people to consider when setting up their home office is comfort. Working from home can mean long periods of sitting. For long term health and better mental clarity, improving the ergonomics of a workspace can make a big difference. If you feel better, you'll work better. A few ergonomic items that can help you be more comfortable while working from home include laptop risers, footrests and backrests, wrist rests and monitor arms. Not sure which ergonomic products might benefit you most?  Kensington's Ergonomic Workspace Blog can help.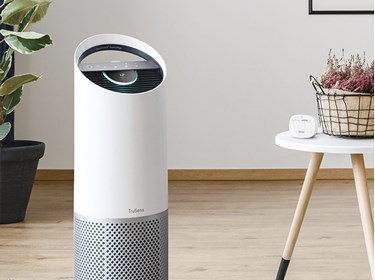 With all the time being spent indoors working from home, homeschooling and social distancing, TruSens air purifiers can help purify the air you and your family are breathing. Since the air inside a home is contained for security and climate reasons, an air purifier provides a solution to significantly help reduce airborne pollutants that are contained indoors.  TruSens air purifiers, can help fight the following air pollutants in your home: pollen, pet dander, dust mites, chemical pollutants, odors, bacteria and airborne viruses. The air purifiers come in three sizes, small, medium and large. Kensington also entered the environmental climate control realm by offering their WellView line, which includes a monitor stand with a modular air purifier, heater or fan in a compact desktop size perfect for home office use.

Creativity
Although many are confined to their homes to participate in social distancing, people are searching for an opportunity to escape reality, relying on the internet, social media and other channels for new hobbies and entertainment.  Several our crafting brands have been sharing creative projects for families to complete together on their social media channels and websites. Brands taking part in promoting these activities include Derwent, Xyron, Barrilito and Tilibra.