The new Pastel Series of enhanced wireless controllers for Xbox series X|S was launched by PowerA in late March, marking Xbox's first launch under their internal program called "Project Belvidere," aimed to expand third party accessories in new and interesting ways. For the Spring Collection, PowerA and Xbox targeted a fresh color palette of soft, soothing pastel products that embody the playfulness and whimsy of Springtime.

"Together with Xbox, our team is especially excited to see how this collection will resonate with Gen Z and female gamers," commented Akio Strasser, Senior Director of Marketing at PowerA. "The gaming community is more diverse than it's ever been, and we're privileged to have an opportunity to partner and help nurture this evolution."

The five new pastel designs include the following.

Lavender Swirl – Features mesmerizing, swirly, psychedelic goodness.
Cotton Candy Blue – A sugary sensation inspired by the sweetest of childhood treats.
Pink Lemonade – An icy cold and refreshing design to brighten up any gaming session.
Purple Camo – Where pastel purple meets rough-and-tumble camo.
Pastel Dream – Soothing fades that turn even the most stressful session into a smooth symphony of gaming prowess.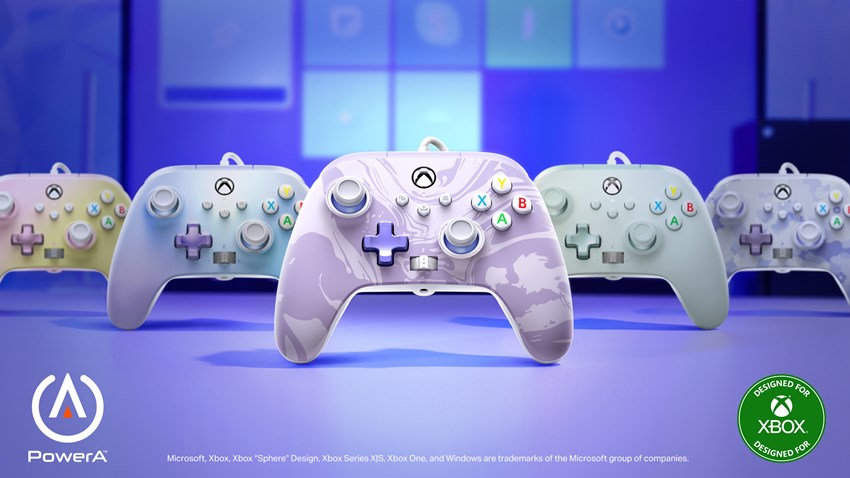 Although the Pastel Series is new to the gaming market, the collection harnesses all the features PowerA consumers know and love, including two mappable advanced gaming buttons that can be programed quickly, dual rumble motors, a 3.5mm stereo audio jack and quick-response Headset Dial with volume control and one-touch mic mute. Additionally, gamers can enjoy comfort and control with superior ergonomics and an intuitive button layout.

For more product information or to purchase from the pastel collection, please visit https://www.powera.com/pastels/.  Pastel Enhanced  Wired Controllers can also be found at major retailers such as Amazon, Walmart, GameStop, as well as many other popular gaming retailers around the world.