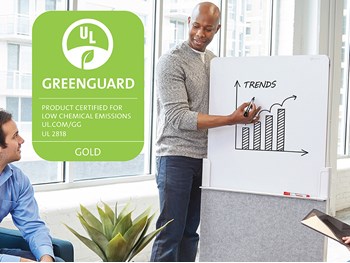 Quartet®, one of ACCO Brands' market-leading brands that has been the world's leading manufacturer of dry-erase glass board products for more than 60 years, recently announced that its glass whiteboard products have earned the UL GREENGUARD Gold Certification.  

Products that achieve GREENGUARD Certification are scientifically proven to meet some of the world's most rigorous third-party chemical emissions standards, with the goal of helping to reduce indoor air pollution and the risk of chemical exposure.  Compared to the Greenguard standard certification, the UL GREENGUARD Gold Certification standard includes health-based criteria for additional chemicals and also requires lower total VOC (volatile organic compounds) emissions levels to help ensure that products are acceptable for use in environments like schools and healthcare facilities.

"We are very excited and proud of this prestigious designation," said Mark Seeley, ACCO Brands' Senior Product Manager, Visual Communications and Office Essentials. "The pandemic brought to light the need for cleaner environments. Indoor air can be two to five times more polluted than outdoor air, and families want to create better spaces for themselves. ACCO Brands is committed to offering a large number of Quartet dry-erase glass whiteboards that will help get your work done at home and the office, with your wellbeing in mind."

Nineteen Quartet products now have the UL GREENGUARD Gold Certification, including one of Quartet's newest products – the Agile Glass Dry-Erase Easel.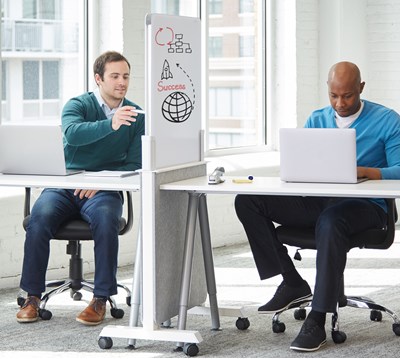 The Agile Glass Dry-Erase Easel features a double-sided whiteboard design made from the highest quality non-absorbent tempered glass on the market. Team members can use both sides at once to brainstorm ideas.  The writing surface can be raised up to 60.5" during use or collapsed down to 41" for easy storage, utilizing the gas spring lift so you can conveniently stop the surface at any height.  Smooth rolling wheels allow for portability so work teams can take it from one workspace to the next effortlessly. The Agile Easel can also serve as a partition in open-concept rooms and modern office environments, offering desk mates a beautiful whiteboard of their own and the privacy they need to stay on task.

Additional products with the UL GREENGUARD Gold Certification include those listed below.
Visit https://www.quartet.com/quartet-blog/product-news-blog/quartet-greenguard-gold-certified-products to learn more about this prestigious certification.